Hope for the Future
1992

Blindness

We are born, but don´t see where
we came from.
We walk forward, thogh seeing no
guide.
We sow, but don´t yet see the
reaping.
We see aging, but don´t take much
pride
In the growth of our unseen spirit
Which dwells somewhere inside.
We see death, but don´t see any
parting
Of spirts from its abode.
We seem to see no more of our loved
ones.
We know not what our future will
hold.

Does that mean we have come from
nowhere?
Does that mean there is no guide?
Does theat mean there may not be
reaping?
Does that mean spirit grows not
inside?
Does that mean the future´s insecure?
Does that mean we´re going nowhere,
And friends will be parted for
sure?

Just because we don´t see it,
doesn´t mean it´s not so.
Our vision is limited while we
dwell here below.
Just because we have limits on what
we now perceive
Doesn´t mean we should not in
unseen things believe.

Ceguera.

Nosotros nacemos pero de donde venimos
no lo sabemos.
Caminamos hacia adelante, sin saber a donde
ir.
Sembramos , y nos quedamos sin ver
la cosecha.
Vemos el paso del tiempo , y no siempre
nos enorgullecemos.
Nuestro espiritu ocultamente crece
Habitando en algun lugar interior.

Vemos la muerte pero no vemos
nada espiritual saliendo
de su su habitación.

Parece que nuestros seres amados
No más pudieramos ver.
Tampoco podemos saber lo
que nuestro futuro será.

Significa esto que de ninguna parte
venimos?
Significa esto que ninguna guía tenemos?
Significa acaso que nada recogemos?
Significa quizá que adentro el espiritu
no crecerá?
Significa esto que la muerte
es el final?
Significa esto que el futuro
incierto será?
Significa esto que vamos a ninguna parte,
Y que los amigos no volverán?

Solo porque no vemos
No quiere decir que sea así.
Nuestra visión es limitada
Mientras tengamos aquí esta morada.
Solo porque tengamos limites en lo
que ahora percibimos
No significa que en lo invisible
no creamos.
- Versión de Jorge Rey


Edited by Rosicrucian Students
___________________________________________________________________________________________________________________________________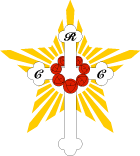 The Rosicrucian Fellowship
International Headquarters
http://www.rosicrucianfellowship.org
_____________________________________________________________________________________________________________________________________