Hope for the Future
1992

COSMIC LAWS

You sow what you reap.
You get what you seek.

All that´s good will endure.
All will grow to be pure.

Hate sees only night.
Love kindles the LIGHT.

LEYES COSMICAS

Tu cosechas lo que siembras.
Lo que tu buscas eso encuentras.

Todo lo bueno perdurará.
Todo a ser puro llegará.

El odio solo ve la oscuridad
El amor genera Luminosidad.



Edited by Rosicrucian Students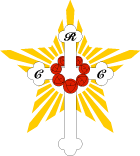 The Rosicrucian Fellowship
International Headquarters
http://www.rosicrucianfellowship.org