Hope for the Future
1992
GOD´S CHOICES

God chooses for us our time of
birth.
He chooses our destined fate.
He chooses what powers will come to
us.
He chooses for death a date.

He chooses with love. He chooses
with care.
We can be assured He´ll always be
fair.
He chooses with wisdom. He gives
what we´ll need
In order that his plan for us will
succeed.

Would we in our ignorance complain
´bout our lot?
Would be ask God for more or for
what we have not?
Would we question God´s wisdom in
His choices for us?
Would we have the audacity to at
Him fret and fuss?

Or will we thank Him for trials?
Will we thank Him for strength?
Will we thank Him for choosing
Our life´s proper length?

And when "Thy Will be done," we
pray,
Will we thank God for all we
encounter this day?

LAS OPCIONES DE DIOS

Dios escoge para nosotros cuando hemos de
nacer.
El escoge lo que nuestro destino ha de ser.
El escoge que facultades hemos de tener.
El escoge cuando de aqui hemos de partir.
El escoge con amor. El cuidadoso es
al escoger.
Podemos estar seguros que siempre será
justo.
El siempre obra con sabiduría. Nos da
lo que necesitamos.
Para que en nuestro plan
triunfemos.

Nosotros entonces en nuestra ignorancia
De lo que nos toca nos quejaremos?
Le pediremos a Dios más o por lo
que no tenemos?
Questionaremos la sabiduría de Dios
por lo que nos brinda?
Tendremos acaso la audacia
Preocuparnos y quejarnos de El?

O Le daremos gracias por las pruebas?
Le agradeceremos por darnos fortaleza?
Le agradeceremos por dar a nuestra vida
La duración apropiada?

Y cuando oremos " Hágase tu
Voluntad",
A dios daremos gracias por lo
que hoy hemos de encontrar?

- Versión de Jorge Rey


Edited by Rosicrucian Students
___________________________________________________________________________________________________________________________________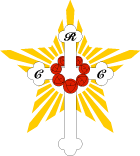 The Rosicrucian Fellowship
International Headquarters
http://www.rosicrucianfellowship.org
_____________________________________________________________________________________________________________________________________