Hope for the Future
1992
HEALING

(After appropiate physical
measures have been taken)

Maintain hope and courage and cheer
And a friendly spirit toward all
those near.

Calm the mind, still the soul.
Imagine the body being made whole.

Release all tension, worry and
fear.
Release all anger. Make the aura
clear.

Open self to the healing LIGHT,
Which is ready to enter when we it
invite.


CURACION

(Despues de haberse tomado las
apropiadas medidas físicas)

Manten la esperanza, buen animo y dispocisión
Y un espiritu amistoso hacia aquellos
alrededor.

Calma la mente, pon tu alma en quietud.
Imagina al cuerpo lleno de plenitud.

Libera las tensiones, el miedo y
la preocupación.
Libera la ansiedad, deja en tu aura
el poder de sanación.

Abre tu ser a la LUZ de curación,
Que esta lista a entrar cuando le
das la invitación.


Edited by Rosicrucian Students
___________________________________________________________________________________________________________________________________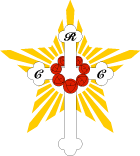 The Rosicrucian Fellowship
International Headquarters
http://www.rosicrucianfellowship.org
_____________________________________________________________________________________________________________________________________