Hope for the Future
1992
SERVICE


If God watches over all, and lays
out for each the path he needs,
Then what is there left for us to
do, to help others succeed?
If each, step by step, for
himself must tread the path of
life,
Then in what way can we help one
another get through the
blistering strife?

Yes, God lays out the pathway.
Yes, each must travel it through.
But we can help one another.
You can help me, and I you.

When one is ahead of another, he
can to the other point the way.
When one´s found a light in the
darkness, he can to others
bring the day.
When one´s found the road is
passable, he can to the rest
give hope.
When one´s found a place of firm
footing, he can help others up
the slope.

To serve well we must move
ourselves forward,
To serve well we must find the firm
ground.
We must kindle a light in the
darkness.
We must then turn around
and seek out faltering brothers
And offer them light in their
darkness,
And encourage them to try the next
round
On the path that leads ever upward
To where LOVE and LIGHT will
abound.



SERVICIO

Si Dios todo lo ve y a cada uno
le traza el camino que ha de andar,
Quedará algun espacio en el
para que a otros ayudemos a triunfar?

Si cada uno debe transitar
paso a paso , el camino de
la vida.
De que manera podremos ayudar
al otro en su rudo batallar?

Si, Dios delinea la senda.
Cada uno la ha de transitar, sí.
Pero, unos a otros nos podemos ayudar
Tu a mi, yo a tí.

Si uno va adelante del otro,
El camino le puede señalar.
Si alguno ya encontró la luz
A otros su oscuridad puede alumbrar.
Si uno encontro el camino transitable
Puede a otros hacerlo esperanzable.
Cuando uno encontró un seguro lugar
Puede ayudarle a otros a trepar.

Para servir eficientemente debemos
hacia adelante avanzar,
Para servir bien debemos sobre
terreno firme avanzar.
Podemos encender una luz
en medio de la oscuridad.
Debemos mirar en torno nuestro
a nuestros hermanos en dificultad
Y brindarles el conocimiento
que pudimos encontrar,
Y ofrecerles la luz a su
oscuridad,
Animandoles a intentar a la siguiente
oportunidad
En la senda que conduce hacia arriba
Donde solo el AMOR y la LUZ
abundarán.
- Versión de Jorge Rey






Edited by Rosicrucian Students
___________________________________________________________________________________________________________________________________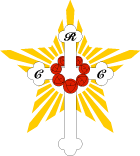 The Rosicrucian Fellowship
International Headquarters
http://www.rosicrucianfellowship.org
_____________________________________________________________________________________________________________________________________