Hope for the Future
1992
THE WEDDING GARMENT

Will you weave the wedding garment
With threads of purest gold?
It is something you must make
yourself.
It can´t be bought or sold.

The threads are made through
service
Offered humblely
From an overflowing heart
That helps others to be free.

The threads are made through
service
Which helps others their power
to know
Which helps others to grow strong
Which helps other´s spirits to
grow.

And when the golden threads are
formed
And in the fire refine
Then all the dross goes out
And they begin to shine.

Then we weave the wedding garment
into our heart and soul.
Then we can wear our garment and at
last attain our goal
To partake in the Mystic Marriage
of the self with the All
To unite with the Powers on high
and never again to Fall.



EL VESTIDO DE BODAS

Tejerás el vestido dorado
Con hebras del oro más fino?
Es algo que haz de hacer
tu mismo.
Ni se compra ni tampoco vender.

Las hebras se forman con el
servicio
Humildemente ofrendado
Por un corazón dipuesto a dar
Que ayuda a otros a obtener la libertad.

Las hebras se forman con el
servicio
Que a otros les ayuda a descubrir
su poder
Que les ayuda a ser fuertes
Que ayuda a que otros espiritus
puedan crecer.

Y cuan las hebras de oro estan
a punto
Por el fuego refinadas
Los elementos toscos se van
Y comienzan a brillar.

Entonces tejemos el vestido dorado
en nuestra alma y nuestro corazón.
Y podemos usar el vestido
Para conseguir nuestra ilusión
Participar del Matrimonio Místico
Del Yo y el Todo en unión
Con los poderes de lo alto
y nunca más volver a Caer.

-Versión de Jorge Rey



Edited by Rosicrucian Students
________________________________________________________________________________________________________________________________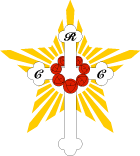 The Rosicrucian Fellowship
International Headquarters
http://www.rosicrucianfellowship.org
_____________________________________________________________________________________________________________________________________